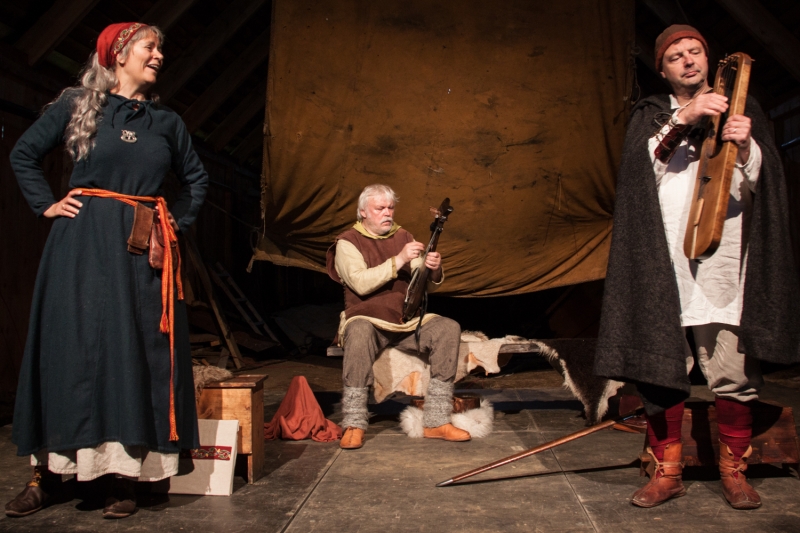 In the boathouse of Lofotr Vikingmuseum during the vikingfestival in 2015. Foto: Maria Agaton.
History and art: Storytelling by music
History is our fundament, and we perform our music in a historical context. On stage, we give our audience a combination of storytelling and music, based on Scandinavian history.
In 2016 our performance is called «Aud the Deepminded – the long journey». Unns story is told in English. The songs are performed in Norwegian.
About «Aud the Deepminded – the long journey»
Unn, or Aud, grew up in the 850s, in Norway – but from there she travelled to Scotland, Ireland, the Hebrides, the Orkneys, the Faroe Islands, and finally, to Iceland. Her life was indeed a long and fascinating journey.
We will tell you about the main events of Unn's life, as it is told in Laksdøla saga. We will do this through songs and selected sayings from the old Norse literature, mainly sagas and «Håvamål» – a famous viking poem. The songs are from the album «Det som bølger uti havet» // «What waves might bring», with lyrics and melodies by Rolf Agaton. He will play the lyre during the performance, as well as John Vedde.
Tone Holte has written the text and plays the role of Unn in the performance.
Performances 2017
2.6.17: Hannesarholt, Reykajvik, Iceland
3.6.17: Akranes, Iceland
3.7.17: Egge vikingfestival at Egge Musem, outside Steinkjer
Performances 2016
3.8 – 7.8.16 Lofotr Viking festival , Borg i Lofoten
10.9.16 Tønsberg vikingfestival . In Tønsberg we performed onboard the viking ship «Saga Oseberg»! That was indeed suitable for the concert «Unn the deepminded – the long journey».
Performances 2015
5.8 – 9.8.15 Lofotr Viking festival , Borg i Lofoten
22.8.15 Yddir Vikingfestival, Aurskog-Høland Bygdetun, Hemnes i Høland
Performances 2014
30.09.14 Follo lag av Norges Blindeforbund, Ski, Norway
24.10.14 Nordic Harp Meeting, Gjøvik, Norway
17.12.14 Hurtigruten «Finnmarken» , on the coast near Trondheim, Norway